10 Reasons Why You Need to Move to HP Converged Infrastructure Now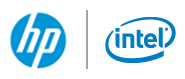 Your company needs more than improved IT. It needs a reinvention of IT. Rather than being a technology integrator, IT needs to become an information innovator. It should be managing systems, not pieces of equipment. Read on to explore 10 reasons why you should move to HP Converged Infrastructure now.



Intel® and the Intel® logo are trademarks of Intel® Corporation in the U.S. and/or other countries.

HP is the sponsor of this material. By submitting your information you agree to be contacted by HP on topics of interest. Before deciding please review HP's privacy statement.
Sponsor: HP and Intel®